JustForex announces a live trading contest for live Standard, ECN Zero, and Pro account holders. The contest name is Halloween trading contest. A trader has to deposit a minimum of $300, and it is one time. This competition prize available for withdrawal.
JustForex offers contest regularly; it is a unique contest for live traders. Any old traders and new clients can join between the registration period. After the start trading period, the broker will show the top 10 participants on the contest page.
The contest price will give within three business days after the end of the contest. The good thing is you can share revenue with other participants from the contest account.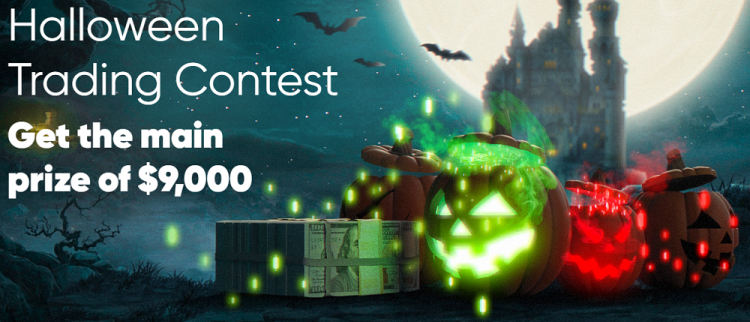 Registration: Sign up a new account, if you've not one - till November 10 of 2019.
Trading period: -
Starting time: November 11, 2019
Ending time: December 11, 2019
Contest Duration: 1 Month
Accessible to: New and old live account (Standard, ECN Zero, and Pro) clients
Connect Affix: Halloween trading contest
Withdraw: Contest prize will credited in the trading account, and 100% withdrawal.
Halloween Contest Prizes
Top 3 participants will get contest prizes
1st place – 9,000 USD
2nd place – 6,000 USD
3rd place – 3,000 USD

How to apply for this contest
Register a new account if you haven't.
Make a minimum deposit $300.
Register for the contest from "Bonuses and Promotions" section at the "Participate in Contest" tab.
Halloween contest terms and conditions:
This competition available for only Standard, ECN Zero, and Pro account, and one person can choose one account from any of these.
A trader has to deposit a minimum of USD 300
JustForex can update, change, and cancel the competition at any time without previous notice.
One person can choose one account to participate. If any case participant personal data match with another account, JustForex will ban from participant in the Halloween live competition.