FxGlory offers 50% deposit bonus on each deposit, up to $1000. This bonus conditions are simple, you can get $2000 but no maximum deposit limit. A clinet can get the bonus only for one account and can withdraw profit.
A trader needs to trades specified the number and specified intervals for withdrawing. It is not available for hedging if anyone violates the rules his/her account will be blocked.
You have to deposit after opening an account and have to trade otherwise FxGlory will remove bonus amount from your trading account. FxGlory doesn't offer IB with this deposit promotion.
FxGlory 50% Deposit Bonus Features
Instant credit
Withdrwal
Margin support
Incrase buying power
Makes new strategis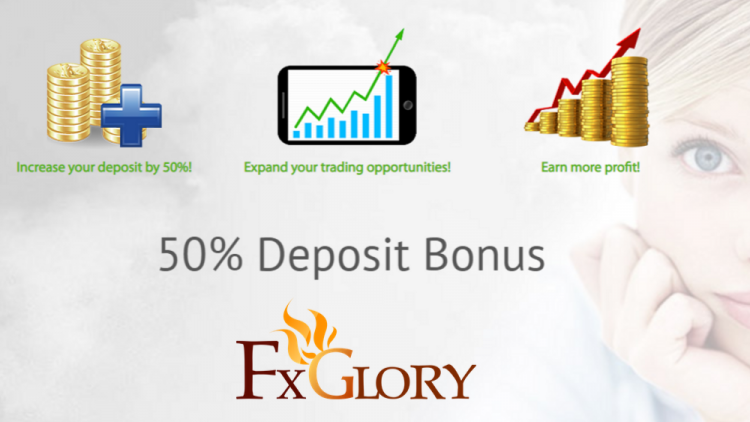 Closure time: Ongoing, Broker will announce on the bonus page, after the end.
Accessible to: The promotion is available for both new and old clients.
Withdrawal: Trading profit is withdrawal, need to trade 1 standard lot for 1.5$ withdraw.
Connect affix: 50% deposit bonus
How to get FxGlory Bonus?
Signup fo a live trading account
Verifiy your account
Ceck the box of bonus befor a deposit
Make a deposit and get your bonus
FxGlory 50% Deposit Promotion Conditions
The broker can remove the bonus amount and block the trading account for fraud activity.
After making a deposit FxGlory will give bonus amount automatically.
The maximum bonus amount is $1000 for an account holder.
To withdraw profit traders have to complete the required number of trade and intervals.
Client can't withdraw the partial of bonus amount.